How Virtual Learning is Changing the Scope of LHS Theatre
This year has been difficult for a lot of people in regards to COVID-19. One of the hardest hit groups at LHS is the theater department, since their curriculum revolves around in-person live performances and shows. Now that school has gone virtual, the department had to get creative this year.
According to Ali Wright, a senior in theater, they are currently looking at A Christmas Carol being virtual where people can watch at home and buy virtual "tickets" online. For their musical performance of The Little Mermaid,  there are plans for it to be performed normally in theaters, as well as an outdoor stage for their spring show.
But it's not just the shows that had to change because of the new virtual learning. The students in the theater department have also had to drastically change how they participate, which comes with its benefits, as the virtual school year has come to be a more relaxed and lenient environment for many. In addition to this, all the students are very optimistic and hopeful that the shows will still run as smoothly as ever.
"[We've] already started online rehearsals for one of our shows, and it's going pretty well.  I think it will continue to be just as successful, though maybe not a regular occurrence when things go back to normal.  Technical difficulties with being virtual do happen and they can be frustrating, but it's not like virtual rehearsals are a complete failure. I haven't noticed a difference in audition anxiety levels, though that may be just me. I'm still just as freaked out as always." said Maia McMahon, sophomore
While people are anxious over rehearsals, many have felt that because of the unlimited takes they get with virtual auditioning versus the single take you get in-person audition is relieving. 
"I personally think online rehearsals will work well for now but for me I think in person feels better because you can get a better interaction and a personal feel to it without having to deal with the connection interfering. For auditions, it is a bit easier because you just send in a video of you doing a monologue or singing a song which is pretty normal in the theatre industry anyway. In person, it is a little more stressful because you have someone or a group of people looking at you and it can be hard to do sometimes" said Alex Huff, sophomore.
"Online rehearsals are definitely going to be a new and confusing thing for all of us here, but I have complete and full faith in the people organizing them and I have no doubt that this years performances will be an absolute success. Auditioning virtually is going to be less stressful for me personally, It's definitely a lot different than having to stand in front in front of everyone. However, I do miss auditioning in person and having that physical interaction that comes with auditioning in person along with all my colleagues. I pray that after all of this is over we can go back to doing shows how they used to be."  said Jackson Wood, sophomore
While virtual, students are able to have more freedom when it comes to most of their classes, however being virtual can have it's negatives, and being a part of theatre virtually can be stressful and a struggle for students just as much as it can be beneficial.
"Although we are not rehearsing physically, our sense of unity is still very present. I think as long as we keep that in mind we'll be alright. One challenge that I think I would face is the body language or blocking that comes with acting. Being on a zoom kind of restricts our movements. With that being said I'm sure our facial expressions have to be 10 times more dramatic. I think the shows will run smoothly as long as we continue to remain focused." said Olivia Stith, junior.
Everyone relatively feels the same about virtual auditions. They're a great benefit for multiple takes, yet they most likely won't stick because there are so many other disadvantages.
"I don't think they'll stick when COVID is over though because there are many things we cant do with online. We can't do body acting and some people have bad internet so they cut off or they just can't really speak at all.  It makes it really difficult to give our best performance because we all rely on each other to do our best since we work as a team. I'm less stressed from virtual theatre but it's for a bad reason. With in person auditions I had to do it in one take, so I had to practice, but since it's virtual I'm struggling to find motivation to do my best, just like in school in general. The advantage is that I have multiple takes though." said Ali Wright, senior.
One of the biggest challenges is not having another person to rely on in theatre. Everyone is adamant about getting along since there needs to be major chemistry between actors to make it feel real.
"I think for now especially in the beginning of starting a new show it could work, but is definitely going to be difficult, when acting together in person its important to play off each other, with energy and reactions, and having chemistry, but over Zoom or Google Classroom its so much harder to read facial, body language and the energy of your cast mates, I think for now its something that we have to live with until things get better, but I do not think with will become a regular thing in theatre No matter what type of audition it is, video or an in person audition, there is always stress, just different types of stress, and challenges, video auditions are/can be normal in the pre-COVID theatre world, for most of us this has been the first time we have had to film a video audition, its good in ways, if you recorded it and think you can do something better you can always go back and redo it as many times as you like, one of the things I personally do not like with online/video auditions is not being able to get the energy from the people you are preforming for and/or preforming with." said Liz Wolfert, junior.
While most information about the shows is unknown, we do know that it will be just as good as all the other shows the theatre program has put on. For more information on the LHS Theatre productions, be sure to check our website!
View Comments (10)
About the Contributor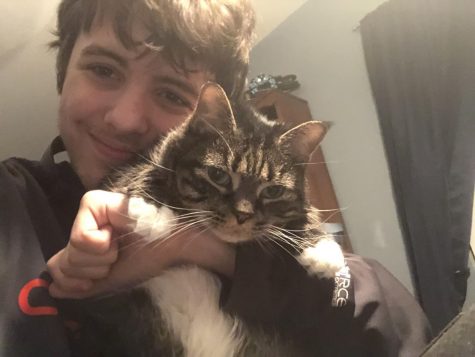 Nick Kroetz, Assistant Editor
Hi! My name is Nick Kroetz. You might know me from Patriot Press Live, our online news show last year. I am in tenth grade, taking Journalism II, and I...