How Covid-19 is Affecting the Holiday Season
As many people know, the holiday season is right around the corner and it's approaching rapidly. For some, the worldwide pandemic may not be a personal concern (though it should be), but for others, it poses a higher risk. With all the precautions in place for avoiding illness, how will people enjoy their holiday season? Will they be doing their usual go-to plans, or will things be different this year?
"I typically spend my Thanksgiving at my mom's house in Maryland with my kid, my boyfriend, my sisters, my sister's husband, and my dad. My mom makes the meal and we usually help her throughout the day. This year, we won't be hosting any additional guests. Nothing else is really changing for us except my dad. My parents don't live together and he lives about three hours away. My dad is older and has a higher risk, so he will not be traveling to join us this year. Some precautions I will be talking this year is if anyone is not feeling well, they won't be attending. We are definitely taking sniffles seriously this year. I will not be around any different people this holiday season, just the usual crew. Traveling also won't be a problem for us considering my mom only lives 40 minutes away," said technology teacher Ms. Carol Jordan.
"My usual holiday plans are thar we have family over or we go see them. Personally, I don't think COVID-19 will be affecting this at all; we are just going to do what we usually do. I feel that everything will turn out fine and we will have a good time. I will also be around the same people so they won't be affected either. This holiday season, I am traveling to Tennessee to see my cousins," said freshman Andrew Ryman.
Most people aren't really in a panic for this holiday season, while others are at high risk and need to take extra precautions. Honestly, how people spend their holidays this year all depends on their family. If a family has someone at high-risk, precautions will need to be taken to make sure to keep everyone safe.
"My usual holiday plans consist of my siblings, their children, and my children going to my mom's for a midday lunch. My two older brothers will both be staying home due to one of my brothers just having surgery. He wants to limit his chances of getting sick. My son and his family will not be there because they will be visiting my daughter-in-law's family. We will be doing the same precautions this year, but making sure we wash our hands and cover our coughs. No one in my family has been diagnosed with COVID-19 yet, so I will be around the same people this year. Of course, if one of us feels sick, then we will not be going. I will not be traveling out of state; I am blessed to have all my family local," said LHS attendance officer Mrs. Karen Lynskey.
"Usually my mom's side of the family from Pennsylvania comes down to Virginia for Thanksgiving. For Christmas, I usually do a weekend in December with my mom's side and sister and then another weekend with my dad's side. Sadly, COVID-19 has changed a lot of things for this year, so it will just be me, my mom, and my dad because we all live near each other. Usually my mom takes the same precautions as every holiday year. Sometimes I go over to their house and eat with them, but I also wear a mask. I really do miss my family and due to COVID-19, I cannot see them. We haven't seen each other for a long time," said vice-principal Ms. Lauren Milburn.
Not seeing family can be rough. Everyone enjoys spending time with their families, but this year, most of them can't. Holidays are about gathering and spending quality time together with loved ones and not doing that can really affect some people. At least people are staying safe; gathering in huge groups is definitely not advised right now. Even though it may seem okay, it usually does not turn out okay.
"My family and I will be staying home this Thanksgiving. With the risks of COVID-19, it will just be easier to stay home and cook myself. Even though I won't be able to enjoy this holiday with my other relatives, I know that they will be safe. For Christmas this year, I will be visiting my mom's; it's a normal holiday tradition. When we visit them, we will be cautious and make sure we don't spread germs in any form. Overall, nothing is changing for our holiday plans," said parent Candi Vogl.
View Comments (7)
About the Contributor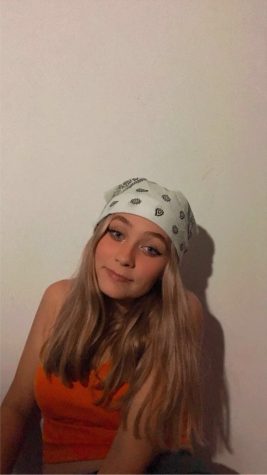 Taylor Ritenour, Staff Reporter
Hi! My name is Taylor Ritenour and I am a freshman this year. Some things that I like to do as hobbies are sports and art. My main sport that I play is...