Tennis is Making a Comeback
The girls tennis team is back in action after not having a team last year! This excited group of 19 girls, led by Coach Sabrina and Coach Colson, are thrilled to start their tennis season on March 19th, which is their first match at Millbrook High School. 
The team practices multiple times throughout the week to prepare for their weekly matches. Some may say that tennis isn't a very hard sport, but the coaches will disprove that myth in a second. Their practices consist of warm-up drills, hitting drills, scrimmages, and conditioning. 
The head coach, Coach Sabrina, is astatic about their upcoming season. She is a former student at LHS and is now a cheer and tennis coach. All throughout high school she played on the tennis and absolutely loved it. With her being the new coach, she hopes to make tennis a fun  sport and a learning experience for her athletes. 
"I decided to coach tennis this year because playing tennis is something I enjoy doing, and in high school, tennis brought me happiness. I also wanted to bring the program back to give girls that same opportunity and joy," said Coach Sabrina.
The girls are also super pumped about the upcoming season. Since Liberty didn't have a tennis team last year, the majority of the girls have never played tennis before, so they are excited to try something new.
For some girls, they are playing tennis so they can get involved in a sport. 
"This is my first sport and I absolutely love it,"  said sophomore Greisha Turner. 
On the other hand, some girls decided to play so they could stay in shape for their winter and fall sports. 
"I'm doing tennis because it's a fun way to stay in shape for cheer season in the fall," said freshman Kira Thomas.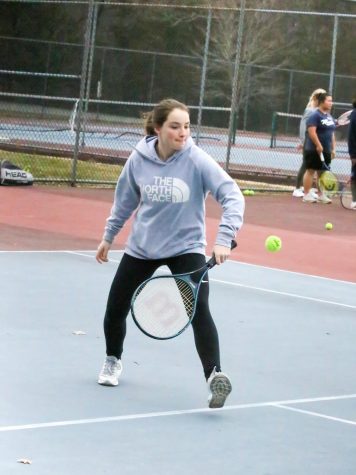 This group of young ladies has some big goals for themselves and the team. They want to personally improve on their skills and knowledge of the sport. Since the players on the team have very little experience, the coaches would like to build a good foundation for the tennis program at LHS rather than focusing on winning matches. By doing this, Coach Sabrina believes this will help the tennis program, and the players, in the long run. 
"My personal goal would have to be hitting the tennis ball perfectly without it going too far or not far enough," said freshman Kendall Johnson.
"My goal this season is to improve my skill level and knowledge of tennis and to make one of the first six seeds," said freshman Hailey Marquise.
Although none of the players have played tennis competitively before, some of their previous sports have helped them with some of the elements of tennis. Sophomore Sydni Smith and freshman Denali Daymude, both played field hockey in the fall which has helped them a lot in tennis. Tennis has a lot of elements that make up the sport, so playing field hockey and having good hand coordination has helped them a good amount thus far. 
"Playing field hockey in the fall has helped me a lot with the hand eye coordination aspect of tennis," said sophomore Sydni Smith.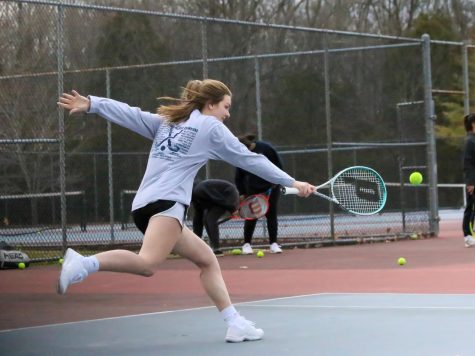 With enough hard work, dedication, and practice, the tennis team believes that they can find success with this sport this season. Remember to go out and support the girls tennis team on March 19th at Millbrook High School to watch their first match of the new season.
View Comments (21)