"Money Heist'' is a show that revolves around a group of criminals, which is led by a man that goes by ''El Professor''. His goal with the group is to try and print billions of Euros in the Royal Mint in Madrid, Spain. El profesor plans this heist as a tribute to his father. El profesor's father used to rob banks to treat his ill son. In an unfortunate event, his father is killed by the police during a robbery. As the professor follows his father's footsteps, he recruits 8 people with special capabilities and nothing to lose. The first five seasons of Money Heist featured a stellar cast of season regulars, including Alvaro Morte as The Professor in the lead. Others involved are Ursula Corbero and Tokyo. Pedro Alonso as Berlin, Itziar Ituno as Raquel Murillo, Alba Flores as Nairobi, Miguel Herran as Rio, Jaime Lorente as Denver, Esther Acebo as Monica Gaztambid, and a few more. The names may be odd but they correspond to a major city to avoid issue if anyone was to be caught. Money Heist or ''La Casa de Papel'', as it's called in Spanish is the original version of the show.
Within months of arriving on Netflix in 2017, it quickly became one of Netflix's biggest shows, although Money Heist is over is over, the franchise is not. The thriller had become the single most-watched series in countries including France, Italy, Argentina, and Brazil, After season 3 arrived on the platform in 2019, Netflix said the new installment had been watched by more than 34 million households, breaking a record for a non-English title. In 2018 Money Heist won the International Emmy award for best drama series.
Among those fans are a variety of celebrities. When famous Brazilian soccer star Neymar Jr confessed his love for the show he made a cameo in the third season. Bad Bunny's verses have revealed an affinity for the series he famously shouts out Nairobi in ''Yo Perro Sola''. The show's popularity has also led to other visible roles for the actors. 3 years ago, Corbero (Tokyo's actor) starred in the music video 'Un Dia'' which features Bad Bunny alongside J Balvin, Dua Lipa, and producer Tainy.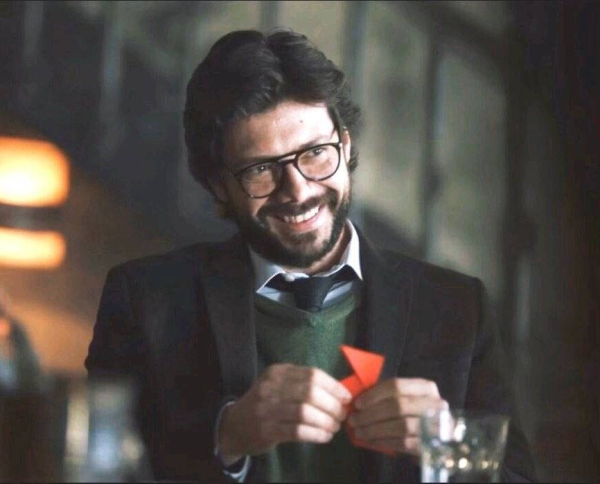 Throughout the show, there are many running themes: love, friendship, bravery, and most importantly resistance. What's unique and inspiring about Money Heist is the revolutionary impact it has on real-world protest. In the series, citizens line on the street surrounding the Royal Mint and the Bank of Spain, even booing the state's violent policing tactics. 
 The group of thieves take hostages (mainly the people who work there) which helps the professor negotiate with the authorities, who are trying to strategize a way to capture him and figure out who he really is. El Professor is an experienced criminal who happens to know the police laws and plans that could interfere with the plan."The plan is designed to survive any setbacks, including my death," said El Professor. He then decides to get the group together and begins a class session where he explains the plan and many useful tips he knows such as how to treat someone who gets shot in the process. Afterward, various flashbacks are shown throughout each season, showing the Professor lecturing on a particular problem. For example, he explains what to do if captured and this allows us to see the others learning about strategies and tactics during flashbacks.  
Tokyo will be your narrator for the 5 seasons. She provides an intimate account of every exciting moment that gives us a sense of hope and manages to soothe our ragged nerves  Nairobi, an inimitable powerhouse. El professor plans on having everyone in Don Salvador Dali's mask and red jumpsuits.
 In the show, the criminals love to have celebratory moments, like when Moscow discovers he has reached the soft soil level of the escape tunnel he's digging. The various members of the team join him one by one singing out a song ''Bella Ciao'' ("Goodbye Beautiful") jumping up and down in joy and relief at having reached dry land in Barcelona.
The second heist was to rob the Bank of Spain this time for 90 pounds of gold. Again, they had a prolonged stay in the building, because to steal the gold, they had to melt it first. With the marginalized robbers. El professor plans this heist as a tribute to his brother Berlin and rescues a member that was caught and tortured by the police Rio "Every day, I'd wake up wondering if it was my last" said Rio. El Profesor is leading a symbolic resistance against a rotten system, using only their "natural privileges" of intelligence and physical strength. Just like the first heist, El Professor keeps manipulating the police and military colonel. Another inspector Alicia Sierra.
It almost didn't happen Netflix picked up Money Heist by chance after Spain was calling it a failure after season 1 Lex Pina and executive producer Jess Colmenar considered canceling it after changing scripts and making it a longer series it hit number 1. 
 Not only have we received a new South Korean remake of the Spanish series, but we're also getting a full-fledged spin-off with the fan favorite Berlin. Each season reflects on the powerful emotions that fuel an influential resistance. Despite the conflicting personalities. It is a game of cops and robbers so expect a shoutout. Money Heist is not a typical Red Robin Hood story, El Profesor and his gang don't steal for a noble cause, but only to find justice for themselves in a world that hasn't treated them fairly. The show's presence on the streaming platform elevated into a global culture that has inspired memes, and Halloween costumes. Many places, including Amazon, are happy to sell anyone and everyone, a red jumpsuit and a Salvador Dali mask. Unfortunately, all good things come to an end, and finally, it was time for Money Heist to end after the 5 seasons, a gripping show adored by millions that will be missed for many years to come.